CoolSculpting® Elite
Freeze Away Unwanted Fat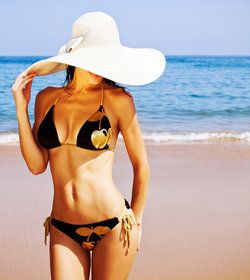 Even if you are dedicated to a healthy diet and regular exercise, you may be unable to get rid of stubborn fat deposits along your abdomen and backside. Fortunately, Dr. Benjamin Boudreaux and Dr. Jeffrey Claiborne offer FDA-approved CoolSculpting® Elite at their New Orleans Metro-area practice. This innovative and non-surgical treatment uses cold temperatures to freeze fat cells, which are later naturally expelled from the body. This procedure requires no needles, anesthesia, or recovery time. Treatment typically take as little as an hour, after which you can immediately return to your daily routine. To learn more about how this convenient and effective treatment can help you, contact our office today.
CoolSculpting® Elite Candidates
CoolSculpting® is a non-invasive alternative to liposuction. It offers similar results in effectively eliminating noticeable bulges, particularly from the midsection and back. While it is designed to refine and tone your figure, patients should understand that it is not a weight loss solution. For patients who are satisfied with their weight, and do not plan on losing weight in the future, CoolSculpting® may be the right treatment to give you those sleek body lines you desire.
Why Choose CoolSculpting® Elite?
CoolSculpting® Elite uses a cooling process called cryolipolysis to freeze away unwanted fat cells. Fat cells are more sensitive to cold than other cells, allowing CoolSculpting® to target fat without affecting surrounding tissues. When the fat is frozen, the cells crystallize, and over the next few weeks, they are naturally flushed from the body. As the fat disappears, your body will become slimmer and more toned. With proper nutrition and exercise, patients can enjoy results that last for years.
Your Treatment Process
CoolSculpting® Elite treatment typically takes about an hour, although if you are treating a larger area, it could take a little longer. During treatment, Dr. Boudreaux and Dr. Claiborne will position areas of unwanted fat between two cooling panels. You may feel cold or pressure at first, but as your body adjusts, you can relax and enjoy a book, watch T.V., or catch up on emails. Some patients even take a nap!
After Treatment
CoolSculpting® Elite requires no downtime, and you can return to work, errands, and even the gym after your treatment. You may experience some minor discomfort, such as redness, numbness, or tingling, but these sensations should subside quickly. Because CoolSculpting® utilizes your body's natural processes to eliminate fat cells, noticeable results will take few weeks. Typically, you can enjoy increased tone and definition about three weeks after treatment, with the results becoming more dramatic as the fat cells continue to leave your body. It takes approximately eight - twelve weeks for the fat to fully disappear. For many patients, a single session is enough to achieve their desired results, though patients may choose to undergo additional treatments. Dr. Boudreaux and Dr. Claiborne can help you determine the number of treatments needed, and will only make recommendations that will help you reach your cosmetic goals.
Contact Us Today
To learn more about this state-of-the art procedure, contact us today. Let us help you achieve the sculpted look you have always wanted.